One of the most powerful tools I use in my coaching business is tapping. Before we get into why this is so powerful, I need to share one of my core beliefs:
For anything that we wish to change/improve in our lives or business, we must start with mindset work. Plain and simple.
The "snags" are just symptoms of a deeper thing: your beliefs.
Let me give you an example: if you're struggling to keep your accounting up to date… this is a mindset problem.
You believe that:
You're not "good with money"

"Accounting is too complicated"

"I can just do this later"

"It'll take too long"

"This is not a priority"

[insert your reason here]
You see, we need to work on the root cause of the avoidance, so then we can create a system that works for you and your needs.
If we work on the symptom: the accounting system, you'll be in the same spot you are today 1 month from now. Guaranteed.
If we work on the root problem, the mindset of it, once it's "cleared", you'll be in a completely different spot. You'll have different knowledge and tools.
One of my favorite tools to process limiting beliefs or unpleasant emotions is: Tapping.
[so much so that I'm adding a whole module on tapping inside Money Mindset Mastery!]
Let's get to the basics: what is tapping and how it works.
Tapping, or Emotional Freedom Technique (EFT), is said to be a mix of acupressure and modern psychology. I like tapping because it connects my mind with my body and supports me in processing "limiting beliefs" instead of trying to bury them.
When you're tapping, you're pretty much tapping certain points of your body while saying what is your most pressure issue at this point.
In traditional tapping, you rate your most pressing issue on a scale of 0-10, 0 being not existent and 10 very pressing/debilitating.
And we start the tapping process:
Karate Chop: side of the hand under the pinky finger

Here is where you make your "statement" which is general structure as the following: "Even though I'm feeling [fill in the blanks]. I truly honor, forgive and accept myself]

You do that three times

If that phrasing feels forced, feel free to change to words and language that feel more aligned

In the first 1-2 sequence we'll talk about the problem itself. Allow things to come up while your tapping and keep on doing

The sequence that I enjoy doing is:

Top of the head

Eyebrows

Side of the eyes

Under the eye

Moustache

Under the lip

Collarbone

Under the arm

Wrists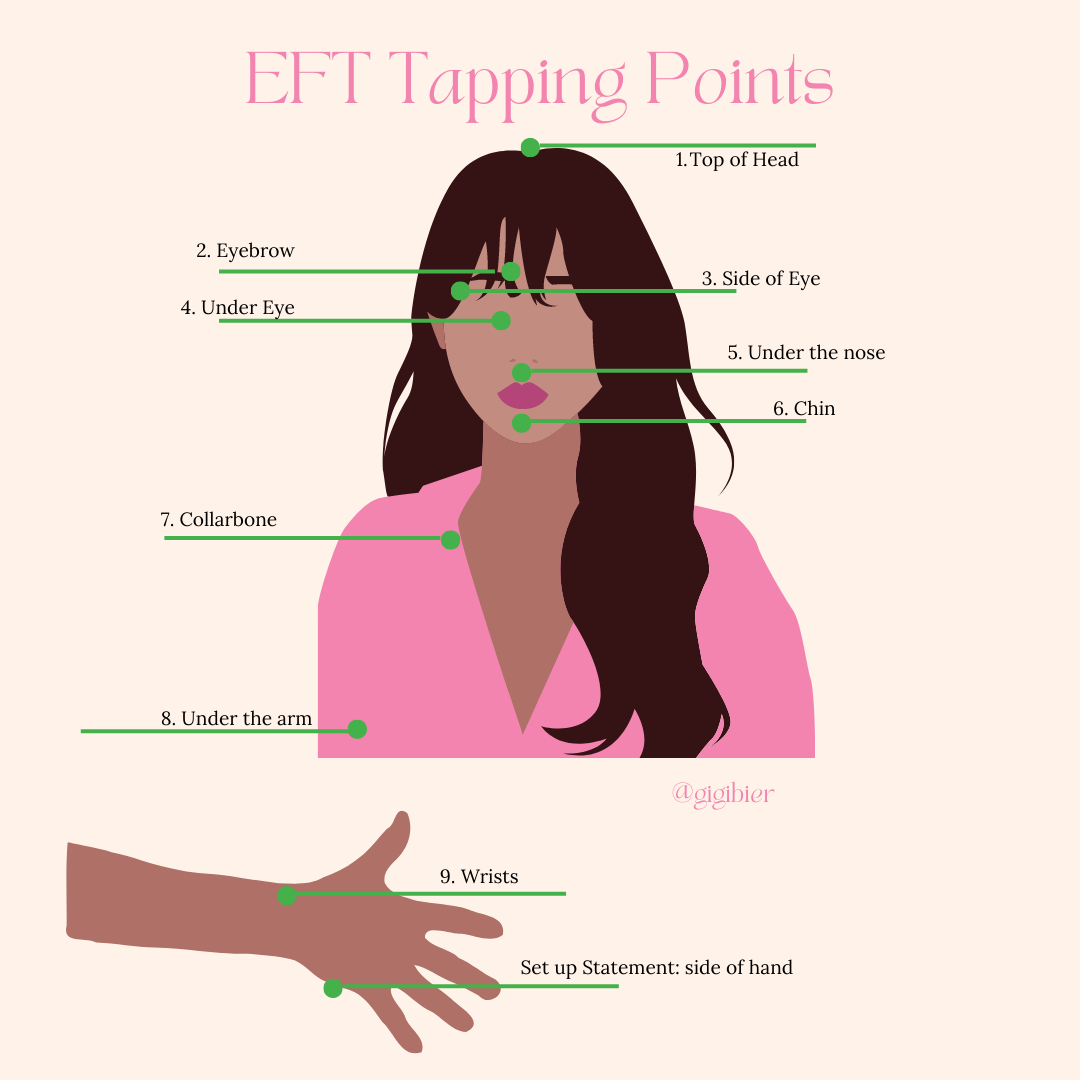 After the first few rounds, think about the most pressing issue and rate it again, note if it decreased, stayed the same, increased

Here is just an indicator if you should keep doing the "negative" tapping, or move to a positive round

Generally, I do not do the rate, but when we're starting it's interesting for benchmarks

If you feel in a good spot, tap a few rounds on positives

Here is an example of a tapping script shared inside Money Mindset Mastery

Custom HTML/CSS/JAVASCRIPT



Tapping supports the processing of emotions, thought patterns and conditioning - and the processing of those things are what really makes a lasting change.

When working 1:1 with clients, we do create custom tapping scripts for the specific issue. I do believe tapping to be the most effective when we use words and phrases that we identify with.

If you're interested in how I can support you in your Money Mindset Journey, you can book a discovery call with me.